Titanic Iceberg Ice - Get it while it's HOT!*
---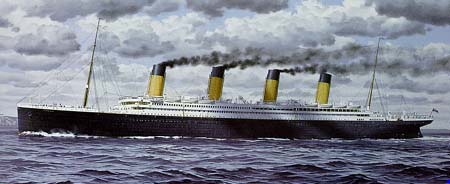 On April 14, 1912 the mighty ocean liner Titanic struck an iceberg in the North Atlantic and sank!
---
Now you can own a piece of history!
For an unlimited time only, you can own a piece of the mighty iceberg that sank Titanic!*
---
Titanic FAQ Frequently Asked Questions! - (NOT your typical list!)
TTC The Titanic Cable T.V. Channel - All Titanic - All the Time!
Titanic Iceberg Ice!* - Get it while it's HOT! (Detailed Information)
---
* Note: due to limited supply, some ice may not be authentic Titanic iceberg ice, some ice may be frozen city tap water.
---
Click here to e-mail me at: swezeyt@winternet.com
Visit My Home Page for More Stuff!
(C) Copyright 1998, Thomas F. Swezey All rights reserved