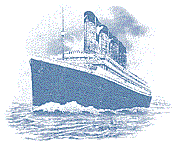 The Titanic Channel - All Titanic - All the time!
Call Your Local Cable Operator today!
---
Today on TTC:
---
8:00 Icy the 'Berg - Icy shows children how to open metal objects from below by popping their rivets.
---
9:00 Dr. Science - New computer simulation techniques prove the Titanic really was unsinkable.
---
10:00 Martha Stewart - One hundred and one recipes for iceberg lettuce.
---
11:00 Geraldo - "The 'berg that got away". Photo enhancement reveals a second iceberg behind the Grassy Knoll.
---
12:00 Titanic 90210 - Wireless operator Phillips ignores an ominous message with dire consequences.
---
1:00 Twilight Zone - Titanic arrives in New York on schedule to a confused press and public.
---
1:30 Mission Impossible - The IMF team sabotages a foreign ocean liner, blaming it on natural causes.
---
2:30 Tarzan's Titanic Adventure - (1942) Tarzan battles Nazi spies aboard the ill fated liner.
---
4:00 The Love Boat - Surprised Captain Steubing encounters icebergs off Baja California. Goes down with his ship.
---
5:00 Titanic - The Next Generation - Starship Titanic collides with comet on maiden voyage.
---
6:00 Dick Clark's Titanic Goofs, Gaffs and Practical Jokes "I thought you said 'nice up ahead'!"
---
7:00 When Icebergs Attack! - Harmless blocks of frozen water become dangerous killers!
---
8:00 "Titanic II - the Sequel!"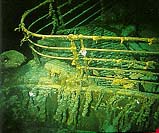 For 73 years Titanic lay silently on the bottom of the North Atlantic while the world was racked by two World Wars! Now this breakthrough film dares to tell the whole story!
---
10:00 Titanic's Most Wanted - White Star executives sought: "We don't need no stinking lifeboats".
---
11:00 TTC Special Presentation: - "The Making of 'The Making of 'Titanic'".
A behind the scenes look at the making of the behind the scenes film "The Making of 'Titanic'".
See in-depth interviews with the interviewers who interviewed 'Titanic' stars.
Find out what it's like to interview stars like Leonardo Di Caprio and Kate Winslet!
---
1:00 Abbot and Costello in 'Titanic Lookouts' - (1947) Frivolity at sea. Contains their rarely seen "Ice on first" routine.
---
2:30 Beavis and Butthead do Titanic - Low brow shipboard mayhem. "What an ice hole".
---
3:00 Xena does Titanic The warrior princess takes on her greatest challenge. Battle on Xena!
---
4:00 Iceberg's are Forever! - (1978) James Bond (007) battles Spectre agents aboard an ill fated liner.
---
5:30 Infomercial Titanic Iceberg Ice - Get it while it's HOT!
---
Click here to e-mail me at: swezeyt@winternet.com
Visit My Home Page for More Stuff!
(C) Copyright 1998, Thomas F. Swezey All rights reserved