NEW! Psychic Hippie Advisor is available as a FREE Android app! Click here!
---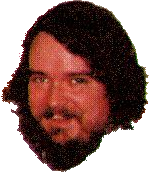 I knew you were coming - some say I'm psychic!
Can ya dig it?
- Groovy!
Ask me anyquestion - then press the button!
It's like 'WOW', man!
I see you forgot your love beads!
Don't be late for the love-in!
---
For more far out stuff visit my Home Page! It's a gas!
Don't be so uptight! E-mail me at: swezeyt@winternet.com
The Hippie is NOT really psychic!
This site is for entertainment purposes only.
Requires JavaScript to be enabled.
(c) Copyright 2013, 1998 Thomas F. Swezey All rights reserved.