Dr. Benjamin Franklin Swezey, M.D. - (His Parents)
Born: November 1, 1873 in Fremont, Nebraska.
Married: November 1, 1910 in Eau Claire, Wisconsin.
Died: June 2, 1949 in Minneapolis, Minnesota.
Wife: Antonie Sophia "Tony" Sommermeyer - (Her Parents)
Born: September 1, 1870 in Eau Claire, Wisconsin
Married: November 1, 1910 in Eau Claire, Wisconsin.
Died: May 14, 1966 in Minneapolis, Minnesota.
---
From an article dated January 9, 1935
BENJAMIN F. Swezey, physician and surgeon at Buffalo, has practiced his profession for thirty years, in Iowa and in Minnesota. Competent, skillful, loyal, Doctor Swezey has been an honor to his profession and is held in particularly high regard in Wright County.

Benjamin F. Swezey was a Nebraska farm boy who made good use of his early educational opportunities in the public schools. His ambition was kindled to become a doctor, but he had to work and make his own progress toward that goal, paying the expenses of his higher education. In 1903 he was graduated from the Keokuk Medical College of Iowa, and his first practice was at Decorah in that state with his brother, Dr. A. J. Swezey. After three years he moved to McCausland, Iowa, where he also practiced three years, and then came to Minnesota and was located at Bellingham until he removed to Buffalo in 1917. Doctor Swezey has been a a general practitioner, but throughout Wright County has achieved a reputation as an obstetrician. In the hundreds of obstetrical cases he handled in the past thirty years it is a matter of distinctive credit that he has never lost a mother whom he has attended. Doctor Swezey is a member of the Wright County and Minnesota State Medical Associations and is a Fellow of the American Medical Association. Besides his private practice he is deputy county coroner, also commissioner of the insane and is attending physician to the County Poor Farm. Politically he votes as a Republican. He has filled all the chairs in the Independent Order of Odd Fellows, is a member of Nelson Lodge No. 135, A. F. & A. M., at Buffalo, the Royal Arch Chapter at Buffalo, and Knight Templar Commandery at St. Cloud.

Doctor Swezey married in 1910 Antonia S. Sommermeyer. She was born at Eau Claire, Wisconsin, daughter of C. W. E. and Charlotte (Huebner) Sommermeyer, both natives of Germany. C. W. E. Sommermeyer was a pioneer merchant and landowner of Lac Qui Parle County, Minnesota. He died at Eau Claire, Wisconsin, in 1911, and his widow died in 1913. Both are buried at Eau Claire, Wisconsin. Mrs. Swezey is a member of the Eastern Star and the Presbyterian Church, while he belongs to the Christian denomination. Doctor and Mrs. Swezey have one son, Benjamin F., Jr., a graduate of the Buffalo High School and a radio engineer. This son is scout master at Buffalo, and boy scout work has been one of the hobbies of Doctor Swezey for a number of years.
---

Obituary:
MINNEAPOLIS MORNING TRIBUNE
Friday, June 3, 1949
DR. SWEZEY DIES IN CITY
Buffalo Physician in State 43 Years
Dr. Benjamin F. Swezey, Buffalo, Minn., who came to Minnesota as a young physician and practiced in the state for 43 years, died Thursday in Eitel hospital. He was 75 years old.

After suffering a heart attack in his Buffalo office last Friday, he insisted on attending a patient who came into his office before being taken home. He was brought to the local hospital Saturday and succumbed to another attack yesterday.
'OLD-TIME DOCTOR'
Dr. Swezey was one of the state's "old-time doctors" - who got up in the middle of the night and drove horse and buggy to administer to a patient 30 miles away.

The pioneer physician was a native of Nebraska, born in Fremont Nov. 1, 1873. He received his medical education and early practice in Iowa.

He graduated in 1903 from the College of Physicians and Surgeons, Keokuk, Iowa, which since has been combined into the State Medical College of Iowa. He practiced with a brother in Iowa until he came to Minnesota in 1906.

Dr. Swezey practiced In Nassau, Lac qui Parle county, and in Bellingham until 1917 when he went to Buffalo. There he remained the rest of his life.
RITES SATURDAY
He was an active member of the community. Despite a large practice he devoted a great deal of time to civic, lodge and other activities.

He was president of the city's first automobile club In 1921 and led in a campaign which located the Lake Region highway. He also led a fight which established the city's first athletic field.

Dr. Swezey served as Wright county coroner and Buffalo health officer. He was a leader in Boy Scout work.

The physician was a Mason and Knight Templar and a member of the Christian church.

Surviving are his wife, Antonie S. Sommermeyer, whom he married in 1910; one son, Benjamin F. Swezey, Jr., and two grand-sons, Minneapolis, and a sister, Mrs. Bessie Maley, Los Angeles.

Masonic services will be held at 9:45 a.m. Saturday at Buchinger mortuary. Burial will be in Forest Hills cemetery, Eau Claire, Wis.
---
Application to Missouri Board
He applied for a medical certificate from the state of Missouri on May 18, 1908 based on his Iowa Medical Certificate of May 21, 1903.
It lists his present residence as Canton, Minnesota. Proposed residence Fair Grove, Missouri.
It states he attended "common school", Fair Grove HS Fair Grove, Missouri, and that he attended Keokuk Medical College, College of P and S, Keokuk from September 25, 1899 to April 25, 1903. Graduated April 28, 1903, and granted a license May 21, 1903 from Des Moines, Iowa.

I don't believe he carried out this move to Missouri and quote it only for its educational information.
---
One Child:
Benjamin Franklin, Jr. (My father)
Born: February 14, 1913
Married: August 1, 1945
Died: June 1988
---

Amateur Inventor
Device to Prevent Snow Drifts
Patent 1,108,943 September 1, 1914 (Application Filed January 4, 1913)
Patent 1,144,393 June 29, 1915 (Application Filed January 9, 1915)
My Grandfather was an amateur inventor and held several patents. His most important invention was a system to prevent snow drifts across railroad tracks. It consisted of a sort of empty terrace affair which would fill up as it snows and hold it in place until it melted in the spring.

He actually had an offer from a railroad (Great Northern I think), in which he could either sell it out right to them or get a royalty on each use. He decided to take the royalty. The next week the US entered World War I and the railroads were taken over for the war effort and nothing became of the scheme. Years later he heard someone was using it up in Canada, but he never got anything out of it. We used to have a little wooden model of this.

"Doctor Swezey's Breakfast Cereal"

Patent 1,416,588 May 16, 1922 (Application Filed September 30, 1920 - Serial No. 413,767)

He got a formula for making a toasted corn based cereal from some Indians he knew and planned to manufacture it under his name (he believed American Indians were the descendants of the "Lost Tribe of Israel" and was doing research on it). My father remembers visiting an Indian reservation as a child in which they served chicken stew, he remembered them scooping up a big ladle of stew with an entire chicken leg with the claws still on it hanging out. Nothing ever came of the cereal scheme.

Rippled Potato Chips

According to my father, he invented the knife to cut rippled potato chips. He had a friend patent it for him, but the friend patented it in his own name and he never got anything out of it.

I don't know if he really did invent this, but I remember as a child seeing a paper from the Federal Government licensing him to manufacture breakfast cereal, pancake mix and potato chips.

Coffee Pot "Saucer"

He invented a metal plate that would snap onto the bottom of a coffee pot and catch any coffee that my bubble up and out to keep the stove clean. I don't think anything came of this either.
Water Heating System

Patent 1,527,093 February 17, 1925 (Filed February 16, 1924)

I found this searching a patents database but I never heard about it myself.
Adjustable Fish Holder

Patent 2,300,321 October 27, 1942 (Filed September 5, 1940)

I found this searching a patents database. I remember seeing the prototype of this but I didn't know what it was. It was basically a clamp to hold a fish down while you clean it.
---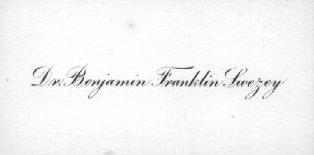 (c) 1999 by Thomas F. Swezey