---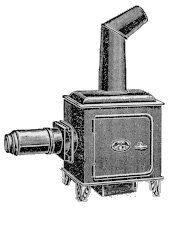 Introduction
Here are a few images of some magic lantern slides (actually for a 'nursery' or home magic lantern). You will need to have JavaScript/Active Scripting enabled to view much of this page.
Magic lanterns of the style shown here were made as early as the 18th century and references to such devices can be found even earlier. The little 'nursery' magic lantern is powered by a tiny kerosene lamp and was made in Germany by E.P. (Ernst Plank Co.) probably in the 1920's or 30's. It can project a small image about 2 feet by 2 feet (1.5m x 1.5m). Many thanks to John-Henry Collinson for telling me about the nursery lantern. After looking at a few slides, you might want to solve this lantern puzzle


We cannot provide valuations for these items. See our 'What's it worth' page for information about how to estimate the value of your item.
| | | |
| --- | --- | --- |
| | Magic Lantern Slides | |
Chromotrope
The animation above is from a 5" x 2-1/4" x 3/16" (125mm x 56mm x 5mm) wood framed Chromotrope lantern slide. Animation is accomplished by turning a small crank extending to the right. The animation was made from a sequence of gif images taken with a Cannon camcorder and digitized with a 'Snappy' adapter. This slide comes from the Gloria Lantern kit made by Ernst Plank and Co. in around 1908. It appeared in the 1908 Sears catalog and came, as you can see, with a variety of slides, some tickets, a set of broadsides, and came in an elegant dovetailed wooden box.


Animation
Less elaborate animations were formed by moving a slide consisting of say 2 images back and forth through the lantern like this bouncing bed animation. This slide has two frames, one showing the youngster up and the other down. I have retouched this slide slightly to remove a scratch in one frame.


Simple Slides
Most of the glass slides shown below are about 7-1/8" x 2" x 1/16" (180mm x 50mm x 1.5mm). The images were formed by simply laying the slides on a flat-bed scanner and first scanning them in transmission mode,and then in reflection mode (to recover the colored paper border). The reflection and transmission scans are combined to form a complete image. The slides are too large to capture in one scan in transmission mode, so two scans are merged to form a complete image.
(Note: Your browser will need to have javascript enabled to see these slides. Selecting one of the slides will bring up a new small browser window, selecting a new slide or exiting this page will close the small window.)
People crossing a bridge to a church, ... and a seaport.
A man with a soldier, a peddler, innkeeper.
Father Christmas(?) and Mothers with children at kiosks
Father Christmas(?) and Mothers with children at kiosks
(larger format slide)
A Winter village scene
A sleigh and a snowball fight
A squirrel and birds in human guise.
Dissolute Bowlers
Caricatures, 3 men and a woman


Village Square and a Train
The revenge of the animals
A Children's Band
Children Swimming
A carrot, birds, and a bellows take human form
Two sailing vessels with steam engines in port
Archers with cross bows
School children at work
---
Wonderful pictures of slides and lanterns from Henc de Roo, Huizen, the Netherlands. You'll find out who the Luikerwaal were. This is a most complete, perfectly documented, and pleasant site. The author has a grand sense of humor and at the same time the instinct of a reseacher. Anyone interested in the Laterna Magica should visit this site
The National Museum of American History has an exhibit, produced by the Photographic History Collection, called Magic Lanterns Magic Mirrors. They show a very fine example of an elegant Gloria magic lantern, a quite professional lantern, and some curious broadsides that advertise some 'educational slide shows'.
Magic Lantern Slides, history, and find out about 'Galante So'. The author of this site responded to my query about my first lantern on the rec.antiques newsgroup many years ago. What a grand character, he taught me about the the lantern I had purchased on a whim. He points out that personal web sites are a form of vanity publishing. Indeed, but look at the things one can learn from sites like his.
About Victorian Magic Lantern Shows by Eric Foxley
A Selection of Magic Lantern Types, 17th-20th Century
This is the Magic Lantern part of an interesting broad discusion of the history of the cinema and popular culture.
Marvelous site for history, a glossary, links, and a great animation
No pictures, contact information.
Wonderful examples of slip slide animations
A touring theater company. Good set of links and some nice stories and fun animations.
Pre-cinema Technology Collection: Magic Lanterns and other pre-cinema imaging devices (Mutoscope, Silent Film, Zoetrope, Kinora)
After looking at a few slides, you might want to read about our other antique collections


---