Stories My Father Told Me About His Grandfather
Charles William Edward Sommermeyer (1830-1912)
And His Family
by Thomas F. Swezey
---
I hope that I have not made too many mistakes recounting these stories.
Certainly neither my nor my Father's memories are perfect.
Still I hope this information can be helpful to anyone interested in or researching CWE Sommermeyer.
I've tried to fit the stories I remember with the histories I've read about him and the notes my Grand Mother left on old photos and such.
Each paragraph is a different story told to me at a different time.
I'll try to keep them in what I think is the right historical order.
My Father was Bemjamin F. Swezey, Jr. (1913-1988)
His Mother was Antonie "Tony" Sommermeyer (1870-1966) - one of CWE's daughters.
---
Childhood in Germany
CWE was born in Gardelegen, Prussia (Germany).

He was the second son and according to my Father the convention at the time was that the oldest son, in this case Heinrich ("Henry"), would inherit everything and it was the responsibility of the other children to help him be successful.
Emmigration to America (1858)
CWE and his brother Henry decided to emmigrate to America and probably came over together.
A note from my Grand Mother says CWE emmigrated to America on February 22, 1858.
They came over first to get established before sending for their fiancees.
He and his brother married two sisters Sophia and Louise Huebener.
Sophia's Father had given her some gold coins that she was to use only to return to Germany if things didn't work out.
CWE fell on hard times early on and she cashed in the coins to bail him out and get him started again.
I guess true love won out.
My Father told me that CWE made a fortune three times and went bust three times but I'm not exactly sure how his ups and downs should be numbered.
The General Store (1862 - 1882)
CWE moved to Eau Claire, Wisconsin which was a small pioneer community at the time and started and operated the first general store there.
This was his primary business in life and he became quite a prominent member of the community.
He later also owned a brewery, a grist mill and a button factory.

My Father said that he had owned Leinenkugel Beer (which is still in business today) but I think he was mistaken about this.
Possibly he sold his brewery to them or something like that.

CWE spoke several different languages fluently and tried to use it to his advantage.
He would come up to Minneapolis, Minnesota to buy items wholesale for his store and could listen in to what the sellers were saying to see if he was getting a good price.
Sometimes he would tell the seller his Mother was whatever nationality they were and would speak to them in their language just to get in on their good side.

Supposedly he invented the idea of making money on the half cent - that is an item is three cents a piece or two for a five cents.
I don't know if he really invented doing that but that's the story.
The Church
At one point CWE sent to St Louis, MO to get sawed lumber to build his house, the first sawed lumber house in Eau Claire.
Representatives from his church approached him and asked him to donate the entire order so they could build a church instead.
He agreed and did so.
Several months later they came back and asked him to donate the pews and hymnals as well.
He became so angry that they expected him to do all that after already making such a large contribution that he threw them out.
He never set foot inside that church even though his wife and children went there for years.
CWE's Children
The Germans were great beer drinkers and to allow their children to drink beer they used to put a red hot poker into a glass of beer to burn off the alcohol.
One afternoon two of his daughters decided they had out grown the need for this.
The result was that they became quite drunk and behaved poorly on the front porch and yard of their home.
Nothing too serious but very inappropriate behavior for two fine young ladies from such a prominent family.
Charlotte went to study piano at the Royal Conf. of Music in Leipzig Germany 1881-1887.
She had returned by January 3, 1890 when she recieved a thank you note from Mrs. President Harrison for her "best wishes in the new year" 1890 note.
One of the other daughters (I think it was Adele) also went to Germany to study art in Hamburg.
When my Grand Mother was born the doctors told CWE and his wife that she had a heart murmur and would probaly not survive even until puberty.
As a result she always pampered herself and lived to be just short of 97 years old.
One of the daughters (I think it was Helene) eventually lost all of her teeth and began cutting a third new set in old age. She evidently had regrown all except two by the time of her passing.
CWE's son, Edward, grew up to become a dentist but my Father said he really had a passion for cars and was a natural born auto mechanic.
He owned a Duzenburg car that he loved to tinker with.
My Father said the first time he ever went over a hundred miles per hour in a car was riding with his uncle on back country roads.
He said he used to drive like a maniac but seemed to have total control.
Supposedly, the family new Olly Bull, a famous midwestern violinist of the era, and Edward recieved violin lessons from him as a boy.
The Big Cattle Ranch (1880s)
In 1882 CWE and his brother Henry closed their businesses in Eau Claire WI and moved to Milbank SD where they opened a general store.
Shortly after that they bought ten sections (ten square miles) of land on the western edge of Minnesota with South Dakota and started a cattle ranch.

CWE founded the town of Marietta, Minnesota which was named after his Mother Marie (Gennerich) Sommermeyer and Etta the wife of the railroad magnate who was suppose to put the railroad in.

The dividing line between their properties ran right down the middle of Marietta.
CWE wouldn't allow any drinking establishments but his brother was fine with them so all the bars were on his side of the line.

Cattle were brought up from Texas in a massive cattle drive and nearly all of them died off during the first winter.
They realized they should have bought the cattle from Montana where they may have been more accustomed to the extreme weather.
The railroad was delayed at being put in and the whole scheme became a bust. (The railroad began operation in 1884).
In 1885 there was a big split between the two brothers.
It's not exactly sure what the disagreement was but I have to assume the plan's failure was the main cause.
They dissolved their partnership and Henry moved his family to Madison WI and later to Minneapolis MN.
An 1887 newspaper story says that a fire destroyed "the Sommermeyer-Huebener store in Marietta, the largest store in the county".
CWE remained in Marietta until 1891.

My Father said the last of the land was sold off during the Great Depression (1930's) for a fraction it's rightful price.
The Button Factory (1891 - 1902)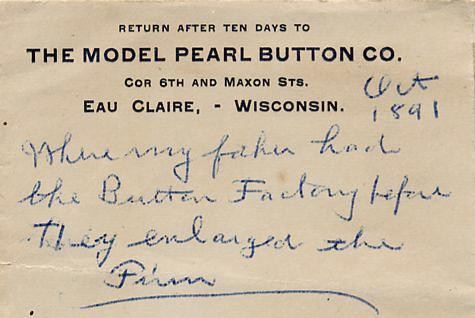 The Model Pearl Button Co. Cor 6th and Maxon Streets Eau Claire, Wisconsin
"Oct 1891"
"Where my father had the Button Factory before they enlarged the firm".
The family had a history of manufacturing buttons going back to Germany. They had a secret process to keep buttons made from fresh water clams from turning black (discoloring) over time. Most buttons had to be made from saltwater clams prior to this process.
Family Locations
CWE Sommermeyer's home was located at: 703 South Farwell Street Eau Claire, WI
All are buried in Forest Hill Cemetary Eau Claire, Wisconsin
The Chappell Family
Willis Chappell and Adele had a son Edward W. Chappell who married wife Ester and had a son Richard Edward Chappell.
My Dad always referred to him as "Dickey" and he was a German translator for the US Army during World War II.
I believe he worked for Sears and Roebuck for many years and retired from there In Eau Claire.
I have an old glass case listing "C. W. Chappell and Son Opticians" Eau Claire WI
---
Return to CWE Sommermeyer Page
(c) 2010 by Thomas F. Swezey