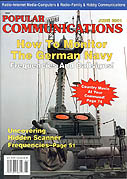 The Swezey Digital Filter
Reviewed in Popular Communications Magazine!
---
The following review appeared in the June, 2001 issue of Popular Communications Magazine.
It was written by Eric Force in his review section "Technology Showcase".
I would like to thank Eric Force and Popular Communications Magazine for their interest in my program.
---
Software Review: The Swezey Digital Filter Program
by Eric Force, eric@dobe.com
Listening to short and mediumwave radio broadcasts should be enjoyable. And, for the most part they are - EXCEPT for those extraneous sounds we don t want - heterodyne whistles and other annoying interference. Enter the Swezey Digital Filter Program. It's said: "one picture is worth a thousand words." In this case, let's change that to read: "one audio file is worth a thousand words." Before reading further, point your browser to http://www.dobe.com/ql/dsp/ and listen to the short (RealAudio) streaming audio file I recorded demonstrating the "before" and "after" characteristics of a typical, interference laden broadcast.
Now is that slick or what? I think you'll agree, the Swezey Digital Filter Program can substantially enhance you SW and MW listening experience. Small in size (only about 130K bytes) but large on capabilities, this nifty program might well be the answer to your SW and MW interference blues!
Many DSPs (Digital Signal Processor) on the market today are of the hardware type (i.e. a physical piece of equipment) and can easily cost several hundred dollars. The Swezey Digital Filter Program ($39.95 USD at the time of this writing) "does it" via software only and, according to Mr. Swezey, "employs high-speed second-generational DSP techniques not just the older FIR filtering methods. This means it can reduce in-band noise and not just do low-pass, high-pass and band-pass filtering. Optimized for SWL with wide 5.5 kHz (or 11 kHz) audio bandwidth good for music and not just voice." When it comes to technical specifications and techniques I'm more impressed with results than specifications. And, impressed I am with the Swezey Digital Filter Program. It's a breeze to use and significantly reduces interference while clarifying speech and music over a wide range of reception situations. Since this is a software program, you'll need a PC with MS-Windows 95/98/NT running on a 200 MHz (or faster) computer, a sound card, and an external receiver.
A "demo" version of the software is available at the author's site so you can test the program with your PC before plunking down any cash. However, if your PC's CPU (Central Processing Unit) is slower than 200 MHz, I'd suggest NOT even trying the demo since the computational demands of the program could easily exceed the capability of your PC causing an apparent "lock up."
Assuming your PC meets the minimum requirements, another nice thing about the program is there is no installation other than copying the program to a desired directory. The program is totally self-contained and will not alter your Windows' Registry. To hook it up to your receiver, just connect the receiver's external speaker or "line out" to the "line in" of your PC's sound card. Since most receivers produce monaural audio, the Swezey Digital Filter Program also provides for a simulated stereo output if desired. Just keep in mind that the simulated stereo option places higher computational demands on your CPU so if your system's speed is at the lower end, you may not want to use it.
While easy to use, the Swezey Digital Filter Program is a deceivingly complex program offering a myriad of options, settings and, to some perhaps, strange terms. When Mr. Swezey supplied me with a "registered version" for this review, the first thing I did was "play" with its many filtering options. In other words, I just "dove in" and didn't "read the manual." While I was able to obtain satisfactory results in a relatively short period of time, I really didn't know what I was doing or why certain parameters worked better than others for a given situation. Consequently, it wasn't until after I had read the available documentation, including the FAQs (Frequently Asked Questions) that I was able to achieve optimum performance - and a much better understanding of the program itself. One of the best things you can do is to READ the available documentation at Mr. Swezey's site before using the program. Trust me, the few minutes required is time well spent!
As with most good things there's generally a negative side. In my case, it's the inability to record the "filtered" audio with my PC-based digital recorders due to the DSP program tying up the sound card. Perhaps in future versions, and if possible, Mr. Swezey might incorporate a recording capability but for now, one must use the output of the sound card as input to another device (in my case, an external tape deck) to make a recording - unless I missed something in the documentation. Regardless, that's a minor thing and in no way diminishes the true power of this exceptional software. If your interest in SW or MW listening is anything more than casual, the Swezey Digital Filter Program is definitely a DSP worthy of your consideration. You'll find it at http://www.wintemet.com/~swezeyt/dsp.htm.
---
To return to the Shortwave Listening Page Click Here!
(c) 2001-2009, Thomas F. Swezey. All rights reserved.