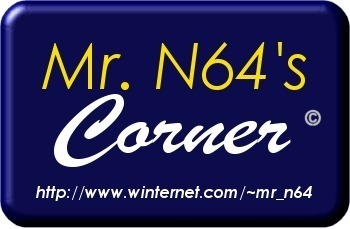 Welcome to Mr. N64's Corner on the Web! Here you'll find the most in-depth, helpful reviews of video game software anywhere on the web. Simply click on the name of a game platform listed in the top frame of the site to bring up an index of the reviews that are available for that platform.
This site was created in Front Page 2000 and is best viewed using Internet Explorer 5.5. Netscape 4 will work as well, but you won't be able to see things exactly as they are intended to be seen.
This site was designed to be viewed at a screen resolution of at least 800 x 600 x 16 bit color.

Enjoy!